BARDAK (mess, chaos)
"Today's surrealist fairytale"
16 and 17 september - the world premiere at Teatro Foce, Lugano, CH
[EN] One day almost the entire humanity mysteriously vanishes from the Earth. A house sprite - Domovoi - wanders among the traces left by humans and looks for a way to bring back the hope of life on our planet. This tragicomic performance invites the audience to experience a fantasy, incomprehensibly absurd and clownish world. This solo show reflects on today's existential questions with humor and irony.
Duration of the show: 70 minutes.
Family audience (6+).
[IT] Un giorno quasi tutta l'umanità si svanisce misteriosamente dalla Terra. Un folletto di casa – Domovoi – vaga tra le tracce lasciate dagli umani e cerca un modo per riportare la speranza della vita sul nostro pianeta. Questa performance tragicommica invita il pubblico a sperimentare un mondo fantastico, incomprensibilmente assurdo e clownesco. Questo spettacolo uniperfornale riflette sulle domande esistenziali d'oggi con l'umore e ironia.
Durata dello spettacolo: 70 minuti.
Pubblico familiare (6+).
38. PANTOMIME-THEATER FESTIVAL, DRESDEN (DE)

8-9th November 2023

Theater Rudi, Dresden, Germany

Photo by Anna Semenova
WORLD PREMIERE - BARDAK
16th and 17th September 2022
Teatro Foce, Lugano, CH
Photo by Massimiliano Rossetto

38. PANTOMIME-THEATER FESTIVAL, DRESDEN (DE)

8-9th November 2023

Theater Rudi, Dresden, Germany

Photo by Anna Semenova
WORLD PREMIERE - BARDAK

16th and 17th September 2022

Teatro Foce, Lugano, CH

Photo by Massimiliano Rossetto
WORLD PREMIERE - BARDAK

16th and 17th September 2022

Teatro Foce, Lugano, CH

Photo by Massimiliano Rossetto
38. PANTOMIME-THEATER FESTIVAL, DRESDEN (DE)

8-9th November 2023

Theater Rudi, Dresden, Germany

Photo by Anna Semenova
WORLD PREMIERE - BARDAK

16th and 17th September 2022

Teatro Foce, Lugano, CH

Photo by Massimiliano Rossetto
38. PANTOMIME-THEATER FESTIVAL, DRESDEN (DE)

8-9th November 2023

Theater Rudi, Dresden, Germany

Photo by Anna Semenova
WORLD PREMIERE - BARDAK

16th and 17th September 2022

Teatro Foce, Lugano, CH

Photo by Massimiliano Rossetto
WORLD PREMIERE - BARDAK

16th and 17th September 2022

Teatro Foce, Lugano, CH

Photo by Massimiliano Rossetto
38. PANTOMIME-THEATER FESTIVAL, DRESDEN (DE)

8-9th November 2023

Theater Rudi, Dresden, Germany

Photo by Anna Semenova
WORLD PREMIERE - BARDAK

16th and 17th September 2022

Teatro Foce, Lugano, CH

Photo by Massimiliano Rossetto
38. PANTOMIME-THEATER FESTIVAL, DRESDEN (DE)

8-9th November 2023

Theater Rudi, Dresden, Germany

Photo by Anna Semenova
WORLD PREMIERE - BARDAK

16th and 17th September 2022

Teatro Foce, Lugano, CH

Photo by Massimiliano Rossetto

38. PANTOMIME-THEATER FESTIVAL, DRESDEN (DE)

8-9th November 2023

Theater Rudi, Dresden, Germany

Photo by Anna Semenova
38. PANTOMIME-THEATER FESTIVAL, DRESDEN (DE)

8-9th November 2023

Theater Rudi, Dresden, Germany

Photo by Anna Semenova
38. PANTOMIME-THEATER FESTIVAL, DRESDEN (DE)

8-9th November 2023

Theater Rudi, Dresden, Germany

Photo by Anna Semenova
38. PANTOMIME-THEATER FESTIVAL, DRESDEN (DE)

8-9th November 2023

Theater Rudi, Dresden, Germany

Photo by Anna Semenova
38. PANTOMIME-THEATER FESTIVAL, DRESDEN (DE)

8-9th November 2023

Theater Rudi, Dresden, Germany

Photo by Anna Semenova
38. PANTOMIME-THEATER FESTIVAL, DRESDEN (DE)

8-9th November 2023

Theater Rudi, Dresden, Germany

Photo by Anna Semenova
38. PANTOMIME-THEATER FESTIVAL, DRESDEN (DE)

8-9th November 2023

Theater Rudi, Dresden, Germany

Photo by Anna Semenova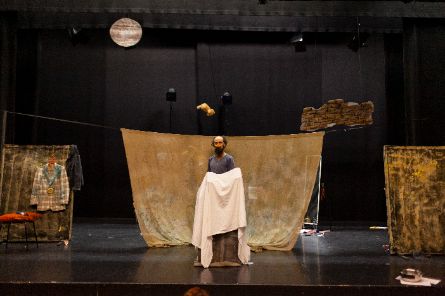 absurd, surrealist physical theatre performance
BARDAK
The show is imagined, created and played by Igor Mamlenkov and directed by Anton Adasinskiy
GENRES
Lyrical and poetic content-pour-rien clown with bits and dashes of absurdity, visual theatre, dance, pantomime. FAMILY AUDIENCE 6+ 
TOURNEES
The show tours since 2022 and has already been performed in the following countries - Switzerland, Germany