Welcome to the land of play AND CLOWN WHERE OBJECTS AND CRAZY IDEAS COME ALIVE! HERE HUMAN interaction ALSO PLAYS A KEY ROLE, where folklore and loneliness meet together to create a poetic journey inside yourself. A subtle play between the intimate space of a home and the public presence of a clown.
KTO TAM? / WHO'S THERE? / WER IS DA? / CHI C'È? 
KTO TAM? or WHO IS THERE?, the theatre version - 50 min
KTO TAM? o WER IST DA?, the street version - 30-45 min
Photo by Anna Shishkina, Walking Dolls of Mr. Pejo
Photo by Anna Shishkina, Walking Dolls of Mr. Pejo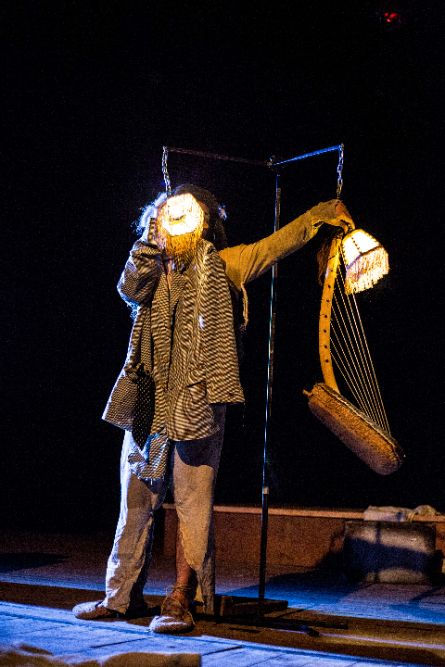 The show is imagined, created and played by Igor Mamlenkov and directed by Xavier Bouvier
SYNOPSIS
Once upon a time, there lived a family in a wooden house, they had some animals, bee-garden, kids were running around barefoot playing day and night. One day, they grew tired of it. It is a tough life in the village, so they just left to seek a better life in town, but they forgot to take their Domovoi (house spirit) with them. However, Domovoi is a responsible spirit, he took his duty seriously and started to take care of the empty house alone. His friends, a fluffy plush dog and abandoned things. He tries to have fun the way he can, but he's got many things to do around the house. Each object he finds takes life on its own and makes him dive into the fantasy world or into the past memories. However, he is just awaiting his new masters, a new family to come. That is why he is constantly asking the silence – KTO TAM? WHO IS THERE? How many things Domovoi had to go through, to remember, to do in order to start living peacefully by himself. When, all of a sudden, the door opens and a rumble of different voices of all ages rushes in, barking of a dog and strange heavy furniture sounds… The light in the doorway disappeared… Did I dream it?
GENRES
Clown, movement theatre and object theatre. From 3 to 99+ years old.
TOURNEES
The show tours since 2020 and has already been performed in the following countries - Switzerland, Russia, Italy, France, Macedonia, Uganda