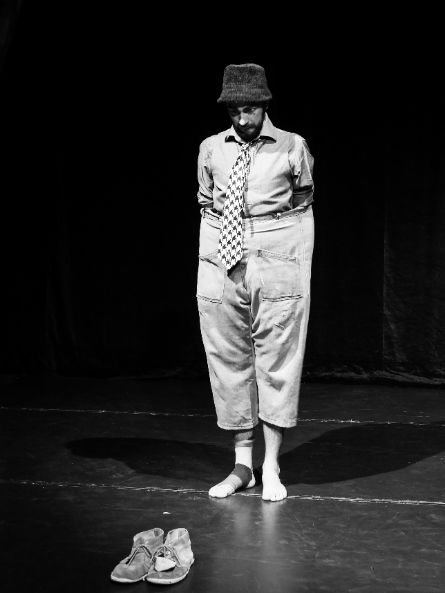 MINIMALIST CLOWN SHOW FOR ALL AGES (30 min)
UN ROMAN RUSSE
This show can be an independent event or as a part II of the lecture performance TOWARDS A POOR CLOWN.

BRIEF SYNOPSIS
He is a simple character of a poor poet who goes on stage to read his story, but a lot of unforeseen things happen. He tries to save his dignity, but everything is in vain. In the end, he manages to play his somewhat crazy song and leaves.
The performance is based on my clown research during my Master's studies in Physical Theatre at the Accademia Teatro Dimitri (CH). I started with the simple questions - What is clown? What makes it unique and what distinguishes it from other performing practices? What is really necessary to make a clown performance? Thus, this Grotowskian concept of 'poor' came out. 'Poor' in the sense of set design, props, make-up and instead rich in emotions and games. It seems that there is nothing on stage, but for the clown there is so much - the space, the audience, himself, his dress, his voice, language.. 
GENRES
dance, mime, clown, juggling, live music (ukulele)
This is a show for children and families, involving the audience in games and participation.

SPACE
The show is adaptable to public and alternative spaces, such as libraries, internal courtyards, little squares, shopping windows, gardens, parks etc.
DOMOVOI DURING PANDEMIA (2020)
Whilst the whole world was locked in their houses and most of my colleagues who even go out for a walk, I had an enormous privilege and honour to play my clown performance "UN ROMAN RUSSE" for an audience of three living persons. It is inspired by my clown research on "Towards a Poor clown", meaning a clown doesn't need anything but audience and him/herself to perform clown. The show was performed on the lawn "Teatro sil Prau" in Mompe Tujetsch, CH, on 1st april 2020.

All my most gratitude to Lucia, Jacopo and my beloved Luna for support.
Also, special thanks to my friends - Leonardo Villa, Riccardo Forneris, Robert Andres Diaz Diaz, Andres Santos and others who have always supported me in my endevours.

Find out more about the show on my official website.
https://domovoi.ch/unromanrusse/

#pandemia #clowndomovoi #clownshow #swissalps #schweiz #graubünden