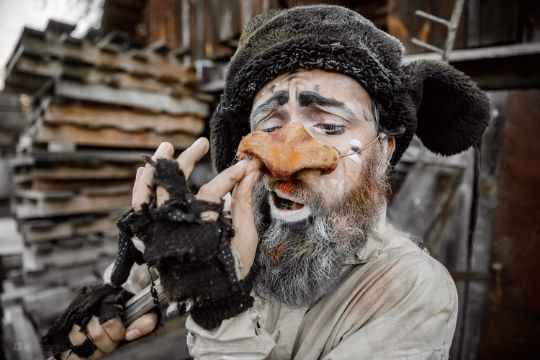 ABOUT DOMOVOI
The DOMOVOI THEATRE COMPANY was founded in 2017 by Igor Mamlenkov during his Master Studies at Accademia Teatro Dimitri, CH, with its first solo clown creation – Domovoi. The company's vision is inspired by fantasy, theatre of movement, visual art, theatre of objects, however the main throne is always reserved for clown. The company is in a constant search for its own means of expression and its individual language.

Igor Mamlenkov, Russia, creator & performer Born in Russia in 1988 where he practiced breakdance and drama theatre. Studied in high school in Denmark and then moved to Barcelona, Spain, where he began studying clown and physical acting with such masters as Jango Edwards and Johnny Melville. Made a few experimental films as a director and actor. His short film went to Moscow international film festival and got Special Jury Prize at Cerano Film Festival, IT. Since 2012, He played in a comedy duo show "Soñeneros" in theatre festivals in Spain and Portugal. In 2015, he created a solo show "THE SPOILER". He entered the Master program at Accademia Teatro Dimitri in 2016 and finished it in 2019. Meanwhile, he participated in Physical Theatre Summer Project "LOD'" at Continuo Theatre, CZ. He played as an additional Green clown in Slava's Snow Show in Theatre Beaulieu, Lausanne, CH. Altogether with his master group, he co-created and played in a physical theatre performance "INSOMNIA", directed by Pavel Stourac, and toured it in Europe. He played the DEVIL in the show "PONTE DI DIAVOLO" directed by Fabrizio Arigoni, at National Marche Concours, Saignelegier, CH. Collaborated on various projects with Compagnie Digestif, Wallis, CH. Altogether with Olivia Ronzani, he co-created and performed the clown duo Les Pedestrians, Basel, CH. He is the member of Markus Zohner Theatre Compagnie (Lugano, CH) in the show Radio Frankenstein. He created his clown theatre piece "DOMOVOI" during his MA program and tours it since 2018. He did a small appearance in the new HBO TV series "Foodie Love" directed by Isabel Coixet. He participated as a performer on the physical theatre projects "Schmetterlingseffekt" and "HIOB" directed by Anton Adasinskiy, Germany. His latest film work is the role of Russian Ambassador for the TV series "CELLULE DE CRISE" by Jacob Berger. Now, he is creating the next clown show KTO TAM? for the whole family. The premiere is scheduled for September 2020.

Associazione BLU SELYODKA serves as the legal and official platform for the functioning of the DOMOVOI THEATRE COMPANY.