CROWDFUNDING BARDAK IS A SUCCESS
https://wemakeit.com/projects/bardak

BARDAK TOURNÉE 2022

(piano completo di tournée della DOMOVOI THEATRE COMPANY è sul nostro sito domovoi.ch)

13 Agosto 2022 - il primo work-in-progress col pubblico presso Theaterruine St. Pauli, Dresda, Germania

6-7 Settembre 2022 – il secondo work-in-progress col pubblico alla Tschüdanga, Salgesch, Svizzera

16 e 17 Settembre 2022 – due debutti nel programma RASSEGNA HOME, Teatro Foce, Lugano, Svizzera

9 Ottobre 2022 – una replica al Teatro Rennweg, Biel/Bienne, Svizzera

3 Dicembre 2022 – una replica al Teatro Paravento, Locarno, Svizzera

30 Dicembre 2022 – una replica al HALLE CONS, Disentis, Svizzera

Aprile 2022 (da precisare) – una replica al Theater Postremise, Coira, Svizzera


Looking for new ways to exist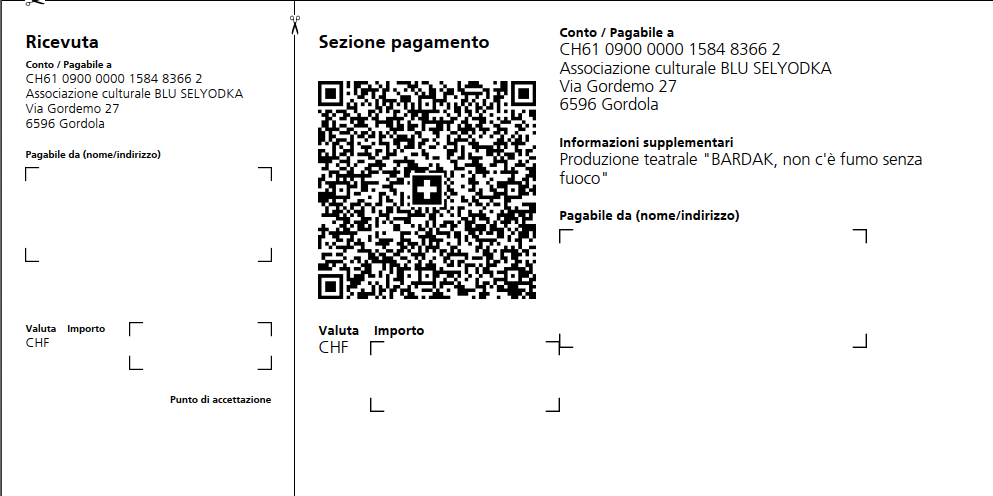 SUPPORT OUR ACTIVITIES
Thank you for your kind contribution to DOMOVOI THEATRE COMPANY and Associazione Culturale BLU SELYODKA. With your support, you contibute to the production-in-progress BARDAK that is to be created in August - September 2022.
You can also contibute to support our workshops and shows for Ukrainian refugees on the
Swiss territory to cover our expenses, shows in Solidarity for Ukraine and Peace in the World, local workshops for kids and adults, our tours with present and upcoming productions.
And remember to smile, it is right under your nose.
Grazie per il vostro gentile contributo alla COMPAGNIA TEATRALE DOMOVOI e all'Associazione Culturale BLU SELYODKA. Con il vostro sostegno, contribuite alla produzione in corso BARDAK che sarà realizzata in agosto - settembre 2022. Puoi anche contribuire a sostenere i nostri laboratori e spettacoli per i rifugiati ucraini sul territorio svizzero per coprire le nostre spese, gli spettacoli di Solidarietà per l'Ucraina e Pace nel mondo, i laboratori locali per bambini e adulti, le nostre tournée con le produzioni attuali e future.
E ricordatevi del vostro sorriso, è proprio sotto il vostro naso. 
Merci pour votre aimable contribution à la COMPAGNIE THÉÂTRE DOMOVOÏ et à l'Associazione Culturale BLU SELYODKA. Avec votre soutien, vous contribuez à la production en cours BARDAK qui sera créée en août - septembre 2022. Vous pouvez aussi contibuer à soutenir nos ateliers et spectacles pour les réfugiés ukrainiens sur le territoire suisse pour couvrir nos dépenses, les spectacles de Solidarité pour l'Ukraine et de Paix
dans le monde, les ateliers locaux pour enfants et adultes, nos tournées avec les productions
présentes et à venir.
Et n'oubliez pas de sourire, c'est juste sous votre nez. 
Wir danken Ihnen für Ihre freundliche Spende an die DOMOVOI THEATRE COMPANY und die Associazione Culturale BLU SELYODKA. Mit Ihrer Unterstützung tragen Sie zur laufenden Produktion BARDAK bei, die im August-September 2022 aufgeführt werden soll.
Sie können auch unsere Workshops und Aufführungen für ukrainische Flüchtlinge in der Schweiz unterstützen, um unsere Kosten zu decken, Aufführungen in Solidarität für die Ukraine und Frieden in der Welt, lokale Workshops für Kinder und Erwachsene, unsere Tourneen mit aktuellen und zukünftigen Produktionen. 
Und vergessen Sie nicht zu lächeln, es ist direkt vor Ihrer Nase.